About Milan Enterprises
A business house in the name & style Milan Enterprises, Karachi-Pakistan better known as ME was established in the year 2002 as sole proprietorship concern engaged in various diversified business activities covering imports, exports and indenting business.

ME has the Capital as well as Human Resources who create, manufacture and sell various products in different segments. We are familiar with the culture, business environment and need of customers in this part of the world and abroad. And we capitalize on our diversity. While we believe in high standards of quality products, at the same time we are extremely conscious of being competitive in prices and prompt in delivery. As such, our products are well received in the world market. This means that every customer we deal with is afforded a mutually beneficial business opportunity.

This is why ME stands for "Great People To Deal With ". Initially a young and small firm having global ambition, global strategies and three main resources enabling us to meet the desired goals.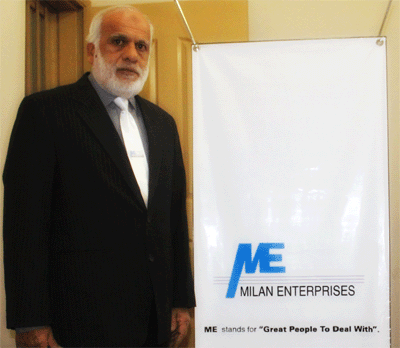 CORPORATE OFFICE ENTRANCE
ME equipped with a very knowledgeable and strong owner supported and staffed by well-experienced professionals who are more inclined towards our long-term ambition rather than focusing solely on the next quarter results.

A team of professional managers having spent most of their careers in world class Multi-National Companies is engaged to increase business efficiency with a strong belief that there is nothing wrong with staying small as we can do big things with small team.

The prerequisite for all the others: ME has the product line that fits with the demands of modern consumer and our product has global appeal.